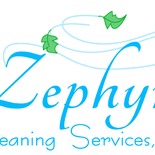 Zephyr Cleaning Services, Inc.
9407 North Government Way, #6
Hayden, ID, 83835
SUMMARY
Description
Specializing in professional house cleaning - weekly, every 2 weeks, every 4 weeks, one-time, move-out/move-in and vacation rentals.

We are dedicated to continuing education in the house cleaning industry - from business operations to cleaning methods to tools and cleaning products - through membership in professional trade organizations that provide weekly teleconferences, webinars and training seminars. We are the only local cleaning service who enjoys membership in professional trade associations - the Association of Residential Cleaning Services International (ARCSI) and The Institute for Service Excellence (ISE). Additionally, we give back to our community by giving our time, talent and a monthly monetary pledge to Cleaning for a Reason (www.cleaningforareason.org), a non-profit organization who partners with maid services to provide FREE professional house cleaning to women undergoing treatment for cancer.
Year Founded
2007
Approx. # of Employees at this Business Location
5
Categories
Professional Cleaning
Keywords
maid service, home cleaning, house cleaning, cleaning services
Loading