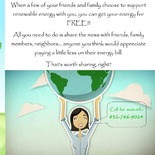 North American Power
Houston, TX, 77082
SUMMARY
Description
My business can help you earn income while powering change in our communities, country & world - at no-risk and no-investment! Let's talk!

Mission
With our no-risk opportunity you have everything to gain and nothing to lose. You can set your own hours and spend more time with friends and family. You can also choose your level of commitment. Do you want to earn enough to go out for dinner once a week? How about earn enough for a dream car or early retirement? You have the power to change everything.

Simply become a customer to get started!

Description
We understand the world can be a rough place. The economy isn't what it once was and we all have goals and dreams that have taken back seat to our everyday priorities. But, it doesn't have to be that way.

What if you could pay off all your creditors, put your kids through school and earn enough money to retire early, on your own terms, and without any financial risk.

You can. We'll help.

With our unique customer referral program you, like thousands of others, can make your financial dreams a reality. Simply by sharing greenelectric™, cleangas and AmericanWind™ with your family, friends, and community you can unlock unlimited earning potential and do your part for our country, the environment and charitable organizations across the globe.

Simply become a customer to get started!
Year Founded
2014
Approx. # of Employees at this Business Location
1
Categories
Environmental
Keywords
electricty, environmental
Loading