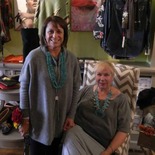 ARTicles
58 Albany St.
Cazenovia, NY, 13035
SUMMARY
Description
Josie Glos and Dianna Slodowitz opened ARTicles in September of 2013 on the main street in Cazenovia, New York.

Their vision is mountain meets city, Cazenovia being in the foothills of the Adirondacks and only 20 minutes from the City of Syracuse.

Art was a prime consideration for these entrepreneurs. Since this region does not lack for talent, ARTicles sponspor periodic art shows and events featuring local artists. The vintage finds and antiques focus on Dianna's unique vision of design. Come and see the vision with antlers, twigs and found objects such as beautiful linens, handmade wooden pieces, and unique chandeliers.

Men's and women's clothing goes from country to city chic, featuring Eileen Fisher, Robert Graham, Minnetonka, Yala, Mud Pie, Tasha Polizzi, Niche, Rena and more.

Photos of the shop were taken by Treva Purcell Photography.
Year Founded
2013
Approx. # of Employees at this Business Location
6
Categories
Clothing and Accessories
Keywords
shoes, jewelry, art, home decor, women's clothing, men's clothing
7 Members trust this resource
Loading