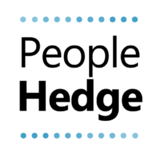 SUMMARY
Description
PeopleHedge was created to educate people on the risks of exchanging currencies and the methodologies used to mitigate those risks.

Every day, millions of foreign exchange (FOREX) transactions occur all over the world. As our global economy continues to expand, money is increasingly flowing across borders. Until now, many persons and entities have been unable to access the powerful instruments that large institutions use to protect their exchange rates against adverse price moves in the future. The reason for this has largely to do with prohibitively large transaction minimums, as well as a lack of understanding of the complex instruments involved.

PeopleHedge simplifies the process of managing currency risk by allowing you to select an exchange date, a currency pair, and a protection amount. Once the quote price is paid, today's exchange rate is locked in for you, up until the date you have specified. If, on any day you choose prior to that date, the exchange rate has moved against you, PeopleHedge will pay you dollar-for-dollar to compensate any losses that have incurred. On the other hand, if the exchange rate moves in your favor, you get to keep the better rate. It's that simple!
Year Founded
2
Approx. # of Employees at this Business Location
4
Categories
Financial
Keywords
Currency Hedging, Risk Management, Foreign Exchange, Currency Ex
Loading